You can't optimize a page or site for search without actually "doing."
And that's the problem, do the wrong thing and your site can disappear from the SERPs overnight.
So you don't need any shortcuts that will cut you short.
Here are six SEO tips that actually work, and how you can apply them immediately.
1. Get Creative With Using Keywords In The Title
When you're dealing with keywords, if it doesn't make sense to a human being, don't waste your time with it.
For example, you have a keyword "c-section how to lose weight," that's a keyword with a fair amount of searches per month but it won't make sense in the title tag of your post.
So you should get creative, using a title like "3 Ways to Lose Weight After a C-Section" would rank you for that keyword and make sense to both readers and search engines.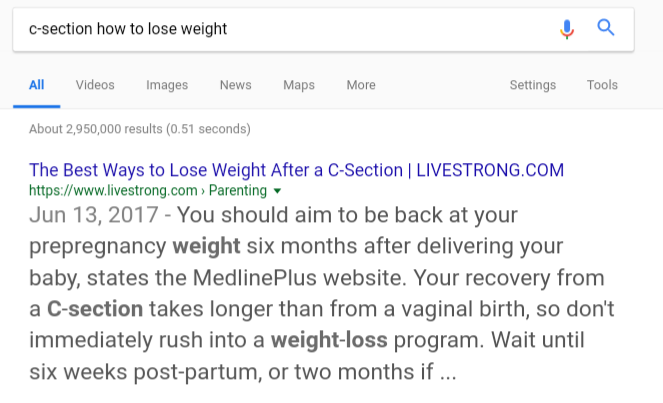 But let's say you don't want to change the format of that keyword, that's still okay.
Again you can do something creative, something like "C-Section: How To Lose Weight and Get Back Your Pre-Baby Body"
That's still below the 70 character limit for titles on Google and you don't look like a disgusting spammer in any way.
2. Watch For Negative SEO
We're not all clean on the internet. There are marketers that believe that if they can't beat you for the top rankings, you have to go down.
If you already have a site that's been around for some time and has garnered some authority, you don't really need to worry as Google trusts your site.
But if you're on a six-month-old domain, everything you do is monitored.
So monitor your links in search console, Search Traffic>Links to Your Site and disavow spammy links if you get them.

3. Use SEO-Friendly URLs
Three rules for creating SEO-friendly URLs, use your keyword or its variation in your URLs, create URLs that are readable and create short URLs.
Including your keyword in your permalink is a ranking factor, and that makes sense because if you're targeting a particular subject in your post, it'll naturally be in your link.
Creating a clean and readable URL means visitors can trust that your page would provide them with the information they need.
No one wants to land on a site that has a permalink extension "grow blog traffic" for a search query that has to do with Facebook ads.
And try to make your URLs short. A link that reads "how to drive traffic to your website in 30 days" is unnecessary, just use "grow traffic" and let the title and meta tags take care of the description.
Here's a good example of the perfect URL structure:

4. Focus On Mobile
This is the wrong time to have pages that aren't properly optimized for your mobile visitors.
And you don't need to ask why, just login to your Google Analytics dashboard and look at the numbers coming to your site on different mobile platforms.
If yours is still poorly optimized, it's time to correct it.
Compress your HTML, CSS and image files and install a caching plugin to boost site speed.
A caching plugin saves time by preventing browsers from downloading a page repeatedly.
And remove pop-ups from your mobile site, don't try to trick users into clicking an ad or using other deceptive tactics.
When you're done making all these adjustments, use this Google tool to check if your site is now mobile-friendly or you still have work to do.
5. Use Advanced Queries To Do Competitor Analysis
There's no search term without pages ranking for it, as far as it has at least 1-5 people searching for it monthly.
It's expensive using SEO tools for competitor analysis when you're just starting out but you don't need to.
You can gauge competition with a few Google advanced search queries.
The "allintitle" search query is one of them.
It makes sense that pages targeting a particular keyword would include it in their post title.
If you get a keyword with low "allintitle" results, it's proof that you can rank for those keywords. This normally happens with low search volume keywords.
Look at an example:


That's the "allintitle" search query for the keyword "how to make money blogging."
So there are 18,900 pages on the internet that are actively targeting this 6,600 searches per month keyword.
Add the authority pages already ranking for the keyword on page one and you'll see it's a waste of time targeting this keyword, especially with a young site.
Now here's another example:


That's the allintitle search query for the keyword "how to use Google Analytics for social media tracking."
There's just one page on the internet that is actively targeting this 10 searches per month keyword.
And guess what, the page hasn't even been updated since 2015!
Now let's look at the pages ranking for the keyword itself without the allintitle function


That's four positions down and we don't even have a page from 2017.
Can you rank for this keyword? Definitely.
There's no point analyzing the pages ranking in the 5th-10th positions, most of them have unoptimized meta descriptions and a particular page there should have nothing to do with this keyword.
But they're all ranking because that's the best Google's got, at least for now, so if you can do something better, produce content that works in 2018 and not 2015, you'll definitely rank for that keyword.
6. Use Content To Build Links Without Writing A Word
Link building is a core part of any SEO strategy. It's even more important if you're targeting highly competitive keywords on your site.
The problem most marketers have with link building is creating fresh content for every campaign but do they really have to?
You can convert your existing content to infographics, ebooks and even webinars and use those as link magnets.
Bonus tip for you: Get 5 marketing blogs on your bookmarks.
Okay, you need just four now since this blog would be one of the five.
New tactics are released every day and if you're living under an SEO rock, there's no way you can take advantage of them.
And you have six tips you can apply on your site right now, go get it done!